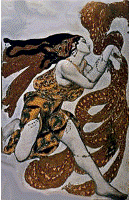 Resource review
—

dead people server
—Contributed by ETAF Staff

Despite its rather grizzly and tasteless title, this web site can be a font of information if you need to know the life and death status, termination circumstances, or personal and professional background of historical or contemporary people in the arts.

In our opinion, the material is presented in a positive manner, respectfully, and with sound judgment; most visitors probably would not find the site objectionable.

This service fills a real need: Perhaps because of the sensitivity of the subject and the dynamic nature of this type of information, information of this type can sometimes be surprisingly difficult to come by.
web site
The web site contains:
Reasonably accurate (though not errorless) information on who just passed away.

Death notices for:

Celebrities and other famous people from all walks of life.

Those with backgrounds in the arts.

Obituaries, bios.

A search engine helps gain access to information on events and historical personalities (including those in the arts), as far back as centuries ago.

Features:

Broadway personalities

Quashing false death rumors

Links to other death information sites

Information about death
---
---
This web site and its contents are copyrighted by Decision Consulting Incorporated (DCI). All rights reserved.
You may reproduce this page for your personal use or for non-commercial distribution. All copies must include this copyright statement.
—Additional copyright and trademark notices—
Exploring the Arts Foundation