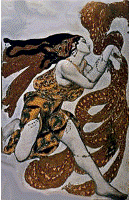 Resource review
—

Radio station WFMT
—Contributed by ETAF Staff
The nonpareil of arts radio broadcasting. Since 1951, one of the finest classical music radio stations in the world, adhering to the highest standards for presentation and programming. Concentrating on classical music (all periods), folk music, ancient music, jazz, drama, poetry, and discussion. Not in the least stuffy.
What does WFMT stand for? Who knows? Some say it's World's Finest Music. Some say it's Fine Music Transmission. Some say that it stands for FM (frequency modulated radio) and that Bernie and Rita Jacobs, the WFMT founders, included the T when they started broadcasting in 1951 because WFMT sounded good to them.
What WFMT stands for doesn't really matter. Whatever you call it, WFMT is not just a radio station, it's a unique institution, a cultural treasure.
Visit their web site for current programming and network access information (see below).
Features
This selection of features at the WFMT will give you a sense of what you are missing if you don't (or can't) tune in:
WFMT's first day on the air was December 13, 1951. They've been going strong ever since! And they're going stronger every year in an era when many classical music stations are failing.
Midnight Special (every Saturday night) for folk and humor. A tradition.
Live and recorded chats with artists, great and notable.
Programs on special arts subjects hosted and prepared by notables such as Studs Terkel. (E.g., catch his Bobby Burns special, rebroadcast once a year to commemorate the poet's birthday.)
Live solo and small group performances (in WFMT's in-house studio and off-site).
Broadcasts and rebroadcasts of live orchestral and operatic performances by great conductors and orchestras around the U.S. and around the world, some recorded by WFMT (off-site or in their own studios).
Replays of historic recorded performances.
Informative brief commentaries by knowledgeable announcers before and after music pieces are played.
Weekly and ad hoc features focused on specific aspects of music such as opera, new recording releases, organs and organ music, young up-and-coming performers, and professional performers.
Series that focus on special topics. For example, all 32 of Beethoven's piano sonatas played live by different performers, one at a time, on successive programs.
Easy-to-hear, extremely informative serialized educational programs on musical and other topics delivered by subject experts.
A vast in-house library of recorded material (over 75,000 recordings).
Broadcasting live 24/7.
...much more.

Broadcasting channels

98.7 on the FM dial in Chicago.
The live broadcast is streamed worldwide over the Internet. See how you can receive it: visit WFMT's web site.
The Jazz Network over the Internet.
The Beethoven network over the Internet.
The Classical Music Web Ring (distributed in the UK by Classical Music UK).
—note—

subject to change

The features and channels shown above are subject to change without notice. Visit the WFMT web site for the latest information.

Neither Electricka, ETAF, or DCI are affiliated with WFMT in any way except for their mutual love of the arts.
web site
---
---
This web site and its contents are copyrighted by Decision Consulting Incorporated (DCI). All rights reserved.
You may reproduce this page for your personal use or for non-commercial distribution. All copies must include this copyright statement.
—Additional copyright and trademark notices—
Exploring the Arts Foundation