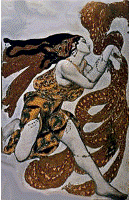 Resource review
—
the Web Museum


—Contributed by ETAF Staff
The Web Museum is an online art museum with a huge collection of masterpieces of art from around the world that you can view and download from your browser.
Browse and download free digital copies of paintings by masters ranging from Rembrandt to Klee.
Also features:
Access to art at affiliated web museums around the world
Artist Index
Authoritative articles on art periods, styles, and movements, countries, such as:

Gothic
Renaissance
Baroque
Restoration
Impressionism
Japanese art and architecture
20th century
Web Site
The Web Museum is affiliated with ibiblio, which is its host web site.
ibiblio
ibiblio is the host web site for the Web Museum, one of the largest collections of fine art on the web.
Visit Electricka's Resource Review on ibiblio: click here.
---
---
This web site and its contents are copyrighted by Decision Consulting Incorporated (DCI). All rights reserved.
You may reproduce this page for your personal use or for non-commercial distribution. All copies must include this copyright statement.
—Additional copyright and trademark notices—
Exploring the Arts Foundation