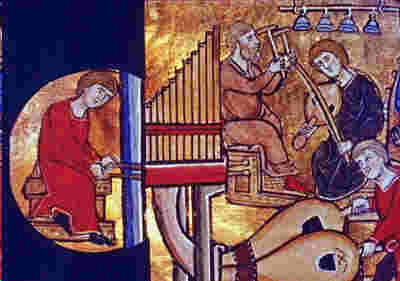 Instrument of the Week
Each week The Muse Of Music examines a different musical instrument or aggregation of musical instruments. Some instruments are commonplace, others rare or unusual. An image of the instrument and a sample of the sound it produces are provided when available. Hey, it was a trumpet that brought down the walls of Jericho, wasn't it?

This week'
s

Featured Instrument

—about this feature: click here—
---
About This feature
In these pages, each week The Muse briefly examines the cultural, historic, and emotional impact of a different musical instrument. Not only does The Muse explore the instrument itself, The Muse touches on musicians who are famous for playing the instrument and tells anecdotes about the instrument and the player, where applicable.
---
Publish your own musical Instrument Of The Week feature here
Electricka invites you to submit your own Instrument Of The Week for publication here. So long as it's compatible with Electricka's guidelines, it doesn't matter whether it's been published before or whether you write it especially for this feature.
To find out more or to to submit your work, visit Guidelines For ByLine Item Contributors—Musical Instrument Of The Week: click here.
To encourage you to write and submit your own original essay on this subject, The Muse has declared Symbol of the Week a ByLine feature.
For more information about this and other ByLine Features, visit the ByLine page at this web site: click here.
---
---
This web site and its contents are copyrighted by Decision Consulting Incorporated (DCI). All rights reserved.
You may reproduce this page for your personal use or for non-commercial distribution. All copies must include this copyright statement.
—Additional copyright and trademark notices—