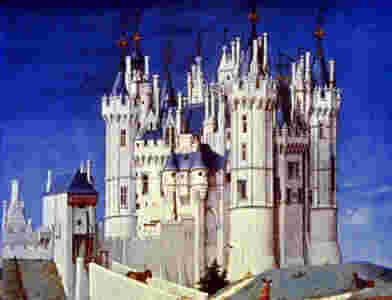 Literary Form
In these pages, The Muse Of Literature explores authors and works that are strongly associated with specific forms of literature. Examples of authors and works of literature characterized by their form are novelists, short story writers, literary dramatists, poets, essayists, and their principal works. The Muse also explores issues and questions related to the subject of literary form.
about this feature
In this feature, The Muse has two primary objectives: 1) to explore works of literature classified by form, 2) to explore issues and questions that arise in connection with literary form.
—note—

What literary form is not

There are many different kinds of writing which are not literature. In this feature, The Muse is only interested in forms that appear in literary compositions. What does it take for a written work to qualify as a literary composition?
what I
s

literary form?

What is literary form? Here's The Muse's definition:
Literary form—the organization, arrangement, or framework of a literary work; the manner or style of constructing, arranging, and coordinating the parts of a composition for a pleasing or effective result.
understanding literary form
Every well-organized, well-written work of literature has a form. The word form comes from Middle English word forme. from Old French, and from the Latin forma, meaning beauty. The ancients considered form to be beautiful in and of itself; it imparted beauty to a work of art.
The term literary form applies to both the notion or idea of literary form and to specific literary forms:
The notion of literary form—Literary forms are skeletal structures or conceptual frameworks designed to support or enclose parts of literary works.
Every literary form is the orderly method of arrangement and presentation of a literary work's parts or ideas; it is the course of its reasoning, its development, and the manner in which its elements are coordinated.

Literary forms contain, fit together, and integrate the parts of a literary work into a complete, cohesive whole. A work's form is the guiding principle that determines the manner in which it unfolds and the elements that propel its evolution from beginning to end.
A specific literary form—One particular kind of literary framework or structure.

Virtually every literary form identified by literary specialists has a name or label which, by convention, has been accepted by most or all literary experts. Many of these names are familiar to the public and are used by critics, publishers, and others to help identify works for evaluation or for sale. For example:

A novel is a composition written in the form of a fictional prose narrative of considerable length and complexity in which the actions, speech, and thoughts of the characters serve to unfold the plot.
A novella is A fictional account longer than a short story and shorter than a novel; usually between 20,000 and 50,000 words.
literary forms & Schemas—examples
Here, The Muse is pleased to be able to offer you a few examples of specific literary forms to help clarify your understanding of the nature of form.
Specific literary forms can be related to each other in what is called a schema of literary forms. Schemas of literary forms are pictorial hierarchical arrangements of specific literary forms and subforms that show the relationships between them.
Since specific literary forms can be related to each other in a schema, The Muse has chosen to achieve two goals with one stroke. The Muse presents examples of specific literary forms in a sample schema in the hope that the schematic arrangement of specific forms will shed additional light on the meaning of each specific form.
---
explore these literary works classified by form
The Muse Of Literature invites you to explore literary works classified and organized by the form in which they are written.
---
Investigate the creativity of novels and novelists—Novel Novels
The basic structure of the novel novel is a long prose narrative that usually describes fictional characters and events in the form of a sequential story. The novel is a literary form that has its roots in the fields of medieval and early modern romance, and in the tradition of the novella. The novella, an Italian word used to describe short stories, is the 18th century source of the present generic English term novel.
Novel writing is one of the most creative kinds of writing in the world; sadly, it has also proved to be one of the most trashy forms of writing. Good and bad novels were written during the earliest periods in the life of the novel; many creative and uncreative ones were produced in the 20th century; and many more are being produced in the 21st century.
The public considers the novel to be a stable literary form that has experienced little change in modern times. But literati who have studied the subject realize that the novel's form and substance have evolved continuously since it was invented, and are evolving even now.
The Muse Of Literature offers a feature that explores this creativity by examining a few of the ways novels have changed in the hands of highly creative modern novelists, the original forms they've devised, and the forces that have impelled their change.
Hence the feature title: Novel Novels.
Join The Muse Of Literature now in exploring the originality and creativity of modern novels at the feature titled Novel Novels: click here.
---
How to approach a poem
A pointer is a piece of advice on how to succeed in a specific area. The aim of this feature is to provide a few quick and simple pointers to visitors who want to understand and experience a poem more intensely. The Muse Of Literature offers visitors a few things to think about when approaching a poem so as to get the most from reading or hearing it.
---
the Sounds of Poetry—About Rhyme
At the feature titled The Sounds of Poetry, The Muse Of Literature explores the nature and significance of poetic rhyme.
Why explore the literary form and structure of rhyme?
Rhyme permeates our daily existence. We encounter it in virtually every walk of life. Rhyme is not just the stuff of poets; we hear or see it in jingles, TV ads, posters, movies, popular songs, comedy routines, jokes, greeting cards, and in many other corners of life. Almost everywhere we turn, there's something to hear or read that rhymes.
Rhyme affects us powerfully, even though we often don't realize it. Everyday it motivates us to buy or sell something, travel someplace, or do something that helps or hinders. It sends us to the voting booth, primed to elect one or another official or to vote a political party in or out of office; it motivates us to take a job or quit a job, sign up for a tour of duty in the Army or Navy, or to run out the door to do a chore for mom or pop, or for honey-baby.
Understanding and dealing with rhyme as an artistic technique is a rare, even esoteric, practice reserved for specialists, teachers, or students doing homework assignments. For the rest of us, it remains something of a mystery. Even among students seldom is the subject of rhyme brought out into daylight, inspected, analyzed, and understood in a simple, straightforward, and open manner, such as one might analyze and understand a short story or a novel or a magazine article. Some of us explore a limited selection of poems, but seldom is rhyme objectively examined as a topic in its own right.
Explore The Muse Of Literature's feature titled The Sounds Of Poetry now: click here.
---
Availability
This feature is in an early stage of development. Return periodically to see future additions.
Technical Aspects Of Literature
The technical aspects of any written work are its properties and techniques as seen from a literary and language perspective.
All writing incorporates and is made up of technical elements like meter, form, sound (rhyme), and figures of speech. Techniques and language elements like these are common to all fields of writing; all writers use them, deliberately or subconsciously. Any particular work can by analyzed, understood, described, and classified by the combination of the writing elements it incorporates.
In this feature, The Muse Of Literature explores writing and writings from a technical and design point of view—structure, organization, tone, style, language constructions, and all the other technical aspects that make for coherent, expressive, and effective writing, or its opposite.
Explore The Muse Of Literature's feature called Technical Aspects of Literature: click here.
ETAF Recommends
...Coming.
---
---
This web site and its contents are copyrighted by Decision Consulting Incorporated (DCI). All rights reserved.
You may reproduce this page for your personal use or for non-commercial distribution. All copies must include this copyright statement.
—Additional copyright and trademark notices—