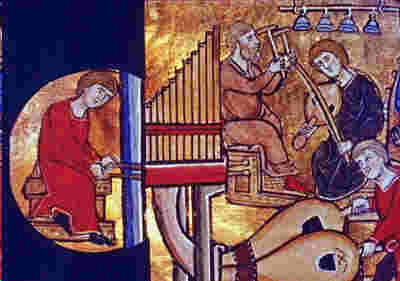 Welcome to Classical Music
The Muse Of Music welcomes to to these pages, the place at Electricka's web site where classical music is explored.
about classical music
Generically, classical refers to Greek and Roman antiquity: classical literature; classical languages, and the like. That which is classical in a general sense conforms to ancient Greek and Roman models in literature or art, or to later systems modeled upon them.
In music, classical has two meanings, neither of which has much to do with music as practiced by the ancient Greeks and Romans. What does classical mean?
about the missing ensemble, quintet, and music—about this feature
The ensemble you see at the right is one viola short of a piano quintet. Two violinists and a cellist are missing. There's one conductor too many and there's a hole in the middle where the viola belongs!
As with this piano quintet group and with the Schubert quintet you are now hearing,* pages and music are missing from the rest of this feature.
True, not all the music destined for this feature is audible just yet; but take heart. Eventually, the missing musicians and pages will fill the empty chairs, the Muse Of Music's instruments will be manned, and music will pour forth everywhere.
If you want to know more about musical combinations like quartets and quintets, stick with The Muse Of Music. Planning for new features that will explain all sorts of musical groups and music is underway. Groups like raga ensembles, jazz quartets, and big bands eventually will be covered...and much, much, more!
*NOTE: You are hearing the last movement from Schubert's superb, elegant, and towering Quintet, D.956, played by the Julliard String Quartet, with Bernard Greenhouse, cello. What's wrong with this picture? Schubert's quintet does not call for a piano; it's scored for two violins, two cellos, and a viola; and conductors stopped leading small groups like quartets two centuries ago. Other than that... Dear me! there's so much to know!
more about these missing pages
Indeed, just as musicians, instruments, and music are missing from this Classical Music feature, pages are missing from all over Electricka's web site. Electricka and her cohort muses would like to add all of them here and now, but, alas, there's just too much for them to do everywhere they turn.
But please be patient and understanding. To be fair and equitable, The Muses are not only working to plug holes for The Muse Of Music's Classical Music feature; they're working to plug holes for all the pages and all the muses; they're spread thin. Eventually, the missing musicians will fill all the empty chairs and The Muse Of Music's instruments will all be manned; the music will pour forth everywhere.
---
ETAF Recommends
...Coming.
---
---
This web site and its contents are copyrighted by Decision Consulting Incorporated (DCI). All rights reserved.
You may reproduce this page for your personal use or for non-commercial distribution. All copies must include this copyright statement.
—Additional copyright and trademark notices—