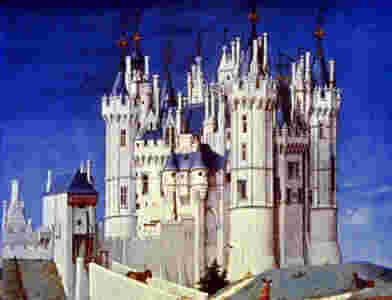 the edgar Prize for mystery Fiction literature
The Edgar® awards are given by the Mystery Writers of America (MWA) for mystery fiction literature in several categories.
about the Edgar
The Edgar® Award is presented to recognize special achievement in mystery writing. The MWA is the grantor. The Edgar takes its name from Edgar Allen Poe, who is universally acclaimed as the originator of the mystery genre, the short story, and the detective story, all three of which are "right down the alley" of the MWA. Nominees for awards are submitted by members and the public; winners are selected by committees appointed for this purpose. Presentations take place at the annual MWA Edgar Awards Banquet.
about edgar
Of course, we're talking about Edgar Allen Poe, here shown at the right, and rightly so. Who could be more a more apt inspiration for a prize of this nature? He's generally regarded as a master of the macabre and the inventor of the modern detective story; his Murders in the Rue Morgue was the first of this genre; his tales of horror are masterpieces of atmosphere; and his Raven is one of the best-known poems in American literature. He was a poet, short-story writer, editor, and critic of high order.
Categories
Edgars are currently awarded in the following categories:
Best novel.
Best paperback original (not a first novel).
Best critical/biographical (bios about writers and other notables).
Best Fact Crime (nonfiction).
Best Short Story (magazines, periodicals, book-length anthologies).
Best Young Adult.
Best Juvenile (preschool prior to young adult).
Best Motion Picture Screenplay.
Best Television Feature or Miniseries Teleplay.
Best Television Series Episode Teleplay.
Best Play.
winner list
See a list of current Edgar Award winners: click here.
Explore the MWA database for all award winners and nominees in all categories and years: click here.
other MWA awards
The Edgar is the most famous and coveted award of its type granted by the MWA. However, the MWA also grants several other important, prestigious, and well-known awards:
about the Mystery writers of america
The MWA states that it is the premier organization for mystery writers, professionals allied to the crime writing field, aspiring crime writers, and those who are devoted to the genre. Its objective is to promote "higher regard for crime writing and recognition and respect for those who write within the genre."
Membership includes professional writers of books, short stories, plays, and screenplays; publishers, editors, agents, librarians, booksellers, and other in allied fields; aspiring writers and others devoted to crime writing. Notice that membership is open to the public everywhere; non-writers as well as writers in any part of the globe may become members of this organization.
Among its activities:
Scholarships for writers.
Kids Love a Mystery, a children's literacy program.
Symposia and conferences.
Support that helps and educates and promotes the welfare of professional mystery writers.
Other activities that further a better appreciation and higher regard for crime writing.
nominate a future edgar winner
MWA award committees accept nominations from the public. Submit your nomination for a published work you think should win—it's as simple as filling out a form.
Visit the MWA Edgar Information page for directions: click here.
ETAF Recommends
Works of virtually all the Edgar winners are listed in the ETAF-Amazon Collection. Many are available, even those published in prior years.
Works of MWA winners make excellent mystery reading. Find current or previous award winners (see above). Then search for the names of winning authors in the MWA database and you'll find their winning titles, award categories, and publisher or producer.
Search the MWA database for reading ideas from top authors: click here.
See HY! Help Yourself to Poe, the first of a new series of electronic books now being developed by ETAF. It contains the complete short stories of Edgar Allen Poe: click here.
---
---
This web site and its contents are copyrighted by Decision Consulting Incorporated (DCI). All rights reserved.
You may reproduce this page for your personal use or for non-commercial distribution. All copies must include this copyright statement.
—Additional copyright and trademark notices—