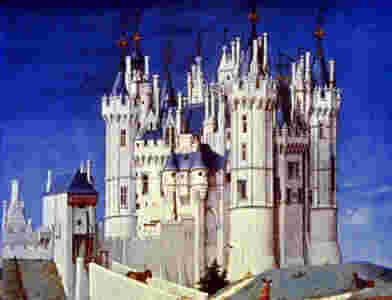 the Nebula Prize for Fantasy and Science Fiction literature
Nebula Awards® are made by the Science Fiction and Fantasy Writers of America (SFWA).
winner list
See information about current award activities; see current winners at the SFWA web site: click here.

See past Nebula winners and their awards: click here.
background and history of the Nebula Awards
Nebula winners are chosen by vote of the SFWA membership. A writer who receives an award is receiving an honor from a group of his peers. Because of the professional status of these voters, this award is generally regarded as one of the most prestigious a writer of science fiction or fantasy can receive.
Awards are presented at the Nebula Awards® Banquet, which takes place each spring. The ceremony is attended by writers and editors and is preceded by meetings and panel discussions on a variety of topics of interest to professional writers.
Each year the SFWA publishes The Nebula Awards Showcase, a volume containing lists of the finalists, winning stories by the Nebula winners and selected nominees, and other information.
Visit the SFWA Publictions page for information about the Showcase and other SFWA publications: click here.
award Categories
A Nebula award is presented for the best single work in each or four categories:
Novel.
Novella.
Novelette.
Short story.
No distinction is made between genres when awarding prizes. That is, only one work receives the award in each of these four categories. The work will be either a science fiction piece or a fantasy piece.
Other sFWA awards and honors
The SWFA also presents these awards and honors:
The Damon Knight Grand Master Award for lifetime achievement: click here.
Bradbury Award for excellence in screenwriting: click here.
SFWA® Author Emeritus: "to recognize and appreciate senior writers in the genres of science fiction and fantasy...": click here.
Other.
About the SFWA
The SFWA, an association of science fiction writers, was founded in 1965 by Damon Knight, a prominent editor and science fiction writer in his own right, who also served as its first president. The organization is focused on meeting the needs of professional writers and associated professionals.
Today over 1200 science fiction and fantasy writers, artists, editors, and allied professionals are members. Each year SFWA presents its prestigious Nebula Awards™ for the best science fiction or fantasy short story, novelette, novella, and novel of the year.
about the sFWA and fantasy
Originally, the SFWA made little distinction between science fiction and fantasy. But as time went on, fantasy grew in importance and members had to decide whether a writer could use a work of fantasy as an admission credential. Should meeting the needs of professional fantasy writers be left to other organizations? the SFWA publicly recognized and embraced fantasy as a professional genre in its own right in 1996, when it changed its name to the Science Fiction and Fantasy Writers of America, Inc. (SFFWA). Despite the new name, SFWA remains its official acronym.
the SFWA reading list
For fantasy and science fiction lovers, the SFWA Reading List is a must-see resource. You'll find it on a page at the SWFA web site. The List is a treasure-trove of references to works by past winners as well as links to other web sites about science fiction and fantasy.
The works and web sites at this page are recommended by the SFWA, a high endorsement indeed. Considering the authoritative source of these recommendations, readers putting their toe in this water are well-advised to investigate these sources, and experienced readers can profitably use them as reading checklists.
At the SFWA Reading List Page, you will also find:
A science fiction and fantasy archive of fiction and non-fiction pieces.
Lists of must-have books.
Links to other sites.
Tips on where to find out-of-print books.
More.
---
compare a Related Award—the hugo
As noted above, Nebular and other SFWA award winners are selected by science fiction writers, who of course are peers of the winning authors. The Hugo is another kind of science fiction award, one where winners are selected by science fiction fans, not by writers. This makes a difference in the winners as well as in the kinds of authors and works that tend to be picked.
Compare the Nebulas and Hugos by visiting The Muse's page on the Hugo Awardsm. There, explore the differences that electorates can make in winning authors and works. What kinds of consistent differences do you find in the choices electors make for winning authors and their works? Do you see patterns in literary quality, style, or genre? To find out, visit The Muse Of Literature's page on the Hugo Awards.
Visit The Muse Of Literature's page on the Hugo: click here.
---
ETAF Recommends
SFWA award winners are part of the ETAF-Amazon Collection. These include Nebula winners as well as the Showcase and the other books on the SFWA.
---
---
This web site and its contents are copyrighted by Decision Consulting Incorporated (DCI). All rights reserved.
You may reproduce this page for your personal use or for non-commercial distribution. All copies must include this copyright statement.
—Additional copyright and trademark notices—